Poem of the Week: "Luanda Street Children" by Pamela Porter
Luanda Street Children
Night in the shadow of the cathedral
gutted back in the seventies, the week
the Portuguese left Angola.
We ride in the bed of the truck
with a pot of porridge so weighty,
it took two to raise it there. There's Rob
and me, and Rowan the Irishman
who knows all the kids, and Abell,
a local, driving. When we turn a corner, still
a block from the cathedral, children chase us;
Rowan calls, Cuidate, cuidate, waves
off those trying to climb into the truck.
They speak a kind of Spanish
with sshhh added, have come
out of nowhere, everywhere. No one
wants them; they keep quiet, invisible,
sleep curled in the spaces between high-rises,
dodge falling bags of feces, hunt trash heaps
for empty tins of coffee
or baby formula, or cardboard
they can roll into a cone.
Standing in the bed of the truck, I burn
my skin with porridge, dip a cup,
pour it fast toward the hands reaching out
with cardboard or tin. Rowan
keeps them in order. Sometimes I pour twice
into one cardboard cone — two are sharing.
Rob hands bread to hands, pours water,
often straight into their mouths.
Then we slam the lid on the pot
and rock in the bed of the truck to another station.
Seven times a night we do this.
Since the international presence arrived,
the girls don't line up much. They make money
standing under any working streetlight.
Next night we're back in the truck.
In the shadow of the burned-out cathedral,
the children's eyes shine, a hundred little moons.
Sshhh, they say. I stoop and pour,
stoop and pour for all
who have been thrown away
in the world.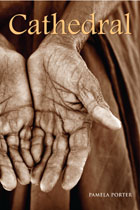 This poem was selected for our poem of the week in honour of the announcement that Cathedral is a finalist for this year's Pat Lowther Award for best book of poetry by a Canadian woman published in 2010.
From Cathedral by Pamela Porter, published by Ronsdale Press in autumn 2010
To buy Cathedral:
This entry was posted on Monday, April 4th, 2011 at 6:21 pm and is filed under
Blog
.