September 16: Jean Rae Baxter reading at Green Heron Books, ON
Jean Rae Baxter will be reading from her new novel, Freedom Bound on September 16th at 2:00pm.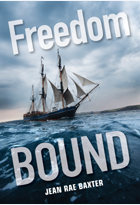 The reading will be held at Green Heron Books in Paris, Ontario.
47 Grand River Street North
Paris, Ontario
N3L 2M3
Tags: Freedom Bound, Jean Rae Baxter, Young Adult
This entry was posted on Thursday, June 14th, 2012 at 4:09 pm and is filed under
Events
.