Pelman, Barbara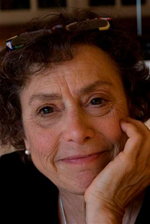 Barbara Pelman
Ronsdale books by Barbara Pelman:

For many years Barbara Pelman has taught English at high school and college, primarily in B.C. Born in Vancouver, she has degrees from the University of British Columbia and the University of Toronto. She has been an active participant in the Victoria writing community: as a member of the Random Acts of Poetry team, a regular reader at Planet Earth Poetry, and the instigator of Victoria's "Poetry Walls," created by her students, in the downtown core.
Pelman's poems have appeared in many literary journals, including Event, Fiddlehead, Antigonish Review, Dalhousie Review and CV2. Borrowed Rooms is her second book of poetry, following One Stone published in 2005 by Ekstasis Editions.