Baxter, Jean Rae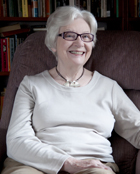 Jean Rae Baxter
Ronsdale books by Jean Rae Baxter:
Although Jean Rae Baxter was born in Toronto and grew up in Hamilton, "down home" was the region of Essex and Kent Counties on the shores of Lake Erie where her ancestors had settled, some following the American Revolution and some a century earlier, in the days of New France. There were many family stories to awaken her interest in Canada's past.
After graduating from the University of Toronto and Queen's University, she became a secondary school teacher in Lennox & Addington County, a part of Ontario particularly rich in United Empire Loyalist history. It was during her career as a teacher that she saw the need for historical fiction written from a Canadian point of view, for at that time almost everything in books, television and movies had an American bias.
It was to provide a Canadian alternative view that she wrote The Way Lies North (2007). In this novel she focused upon the plight of ordinary white loyalists driven from their homes by the violence of the American Revolution. This book was followed by Broken Trail (2011), which told of the native people's struggle. The third novel, Freedom Bound (2012), dealt with the Black loyalists. In The White Oneida (2014), Baxter examined the issues facing the native people following the American War of Independence as they strove to form a confederacy of their own. Hope's Journey, the fifth book in what has now become known as the "Forging a Nation Series," is set in 1791. It shows the determination of loyalist refugees to build not just new lives but a new country in the aftermath of war.
In addition to reading and writing, Jean loves travel, gardening and dogs. She visits many schools and libraries to talk about Canadian history and to conduct creative writing workshops, particularly enjoying those for "teens and tweens." You will learn more about her writing on her website, www.jeanraebaxter.ca. Visit her on Facebook at www.facebook.com/JeanRaeBaxterBooks.
.