Esterhammer, Angela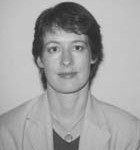 Angela Esterhammer
Ronsdale books by Angela Esterhammer:
Angela Esterhammer was born and raised in Toronto; after studying at the Universities of Toronto and Tuebingen (Germany), she earned her PhD in Comparative Literature at Princeton University. She has been teaching at the University of Western Ontario since 1989, and is currently Professor of English and Comparative Literature and Chair of the Department of Modern Languages and Literatures. She is a Founding Member and Executive Committee member of the North American Society for the Study of Romanticism (NASSR), Founding Director of the University of Western Ontario's graduate program in Comparative Literature (MA and PhD), Past President of the Canadian Comparative Literature Association, a member of the Executive Council of the International Comparative Literature Association, and a Trustee of the Wordsworth Conference Foundation.
She works in the areas of British, German, and European Romanticism and nineteenth-century culture, from perspectives that emphasize performativity and performance. Her books Creating States (1994) and The Romantic Performative (2000) focus on verbal performativity and speech acts, and on philosophies of language that were circulating during the Romantic period. Her current research explores the concept and practice of poetic improvisation during the period 1750–1850 by uncovering historical data about improvisers and their performances across Europe, and by examining how improvisation interacts with Romantic ideas about genius, spontaneity, orality, gender, and national identity. In her book Romanticism and Improvisation, 1750–1850 (2008) and several recent articles she discusses these themes, studying the roles that improvising performers play in nineteenth-century culture and how they are represented in literature.
Major genres and authors covered in her research and teaching are English and German Romantic poetry (Blake, Coleridge, Wordsworth, Byron, Hemans, Landon, Hölderlin), fiction (Godwin, Kleist, Staël), and, increasingly, drama and theatre.