Kelly, Anne M.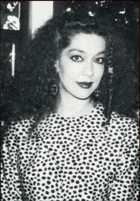 Anne M. Kelly
Ronsdale books by Anne M. Kelly:
Gravity and Light (with Margaret Blackwood and Kerry Slavens)


Anne M. Kelly was born in New Orleans. She has made the west coast of Canada her home since 1967. In addition to writing poetry and fiction, she has worked as an actress and visual artist. She has a B.A. in Creative Writing from the University of Victoria, where she was awarded the Victoria Medal for achievement in fine arts. Her work has appeared in a number of Canadian periodicals.