Beveridge, Cathy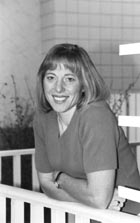 Cathy Beveridge
Ronsdale books by Cathy Beveridge:
Cathy Beveridge enjoys exploring memorable and often defining moments in time. Her novels include Tragic Links, a thrilling tale of two Quebec tragedies; Shadows of Disaster, a Frank Slide adventure; Chaos in Halifax, about the Halifax explosion; and Stormstruck, the story of the Ontario Great Storm of 1913. Two contemporary novels, Offside and One on One, were published by Thistledown Press.
Her books have won the Snow Willow Award and been shortlisted for the Rocky Mountain, Gold Eagle, Diamond Willow and Red Cedar awards. Beveridge often visits schools and libraries, giving workshops and readings. She lives with her family in Calgary.