Humphreys, Derrick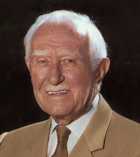 Derrick Humphreys
Ronsdale books by Derrick Humphreys:


Derrick Humphreys (1913–2006) was the former mayor of West Vancouver. His memoir of life in office offers the finest published account to date of the ins and outs, the personalities, and the bare-knuckled fights that have marked the politics of North and West Vancouver for over a decade. Even into his 80s, Humphreys still played a part in municipal politics, helping seniors fight for their rights and for the amenities they so clearly require.
As a young man, Derrick emigrated to Australia, where he graduated from the West Australia School of Mines in Kalgoorlie to work as a mining engineer, a mining company manager, and the Inspector of Mines at Broken Hill, N.S.W. During World War II he served in the Australian Army in New Guinea and the South Pacific. After the war he managed a De Beers industrial diamond plant in South Africa before moving to Edmonton in 1950 to run an oilfield equipment company. Subsequently he joined Trans-Mountain Oil Pipeline Company and then Fabco Manufacturing in Vancouver. Thereafter, he consulted on projects that ranged from peat moss processing in the Queen Charlotte Islands, mining in Brazil, to rebuilding the town of Churchill. He was a Life Member of the Australasian Institute of Mining & Metallurgy. Between 1956 and 1986 Derrick held elected office on the North Shore serving as Alderman in North Vancouver and then West Vancouver. In 1978 Derrick was elected Mayor of West Vancouver and served until 1986. He represented West Vancouver as a director of the GVRD. The Provincial government appointed Derrick as Chairman of BC Transit where he oversaw the planning and initial building of the Skytrain system. In recognition of his many contributions to the community, he was made a Freeman of West Vancouver in 1995. Derrick founded the Royal Canadian Engineer Cadet Corps in North Vancouver, was a founding Director of Junior Achievement of B.C., and worked to create the West Vancouver Foundation. At various times, he was president of the West Vancouver Branch of the Royal Canadian Legion, chairman of the West Vancouver Masonic Hall Society, president of the West Vancouver Kiwanis Club, president of the West Vancouver Lawn Bowling Club, a Life Member of the Royal Society of St. George, a Life Member of the Terminal City Club, a National Director of the Progressive Conservative Party, a member of the National Parole Board, and a member of the B.C. Gaming Commission.