Kernaghan, Eileen
Eileen Kernaghan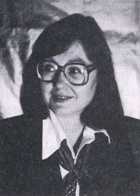 Ronsdale books by Eileen Kernaghan:


Eileen Kernaghan is the author of three bronze-age fantasy novels: Journey to Aprilioth (Ace 1980); Songs from the Drowned Lands (Ace 1983), which won the Canadian Science Fiction and Fantasy Award; and The Sarsen Witch (Ace 1989). She has published poetry and short fiction in PRISM International, Room of One's Own, The Magazine of Speculative Poetry, ON SPEC Magazine and other literary magazines, and her work has appeared in a number of anthologies in Canada and the United States.
Kernaghan is also a co-author of The Upper Left Hand Corner: A Writer's Guide For The Northwest (International Self-Council Press 3rd ed. 1986). She lives in Burnaby, B.C., where she and her husband Patrick operate Neville Books.