Israel, Inge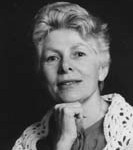 Inge Israel
Ronsdale books by Inge Israel:
Inge Israel was born in Germany, grew up in France and Ireland and lived in Denmark for some years before settling in Canada. She speaks four languages fluently.
The recipient of several literary prizes and awards, Israel is the author of eight books of poetry and short stories in French and English, including: Aux quatre terres (Ed. du Vermillon, 1990), Raking Zen Furrows (Ronsdale Press, 1991), Unmarked Doors (Ronsdale Press, 1992), Le tableau rouge (Ed. du Vermillon, 1997), and Rifts in the Visible / Fêlures dans le visible (Ronsdale Press, 1997).
Raking Zen Furrows was translated into Japanese for Bungeisha Press in 2007. Israel has also published three books of dramas for radio and stage. In 1998, she was named Chevalier de l'Ordre des Arts et des Lettres in recognition of her contribution to French literature.