Mezei, Kathy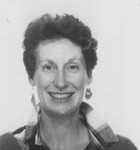 Kathy Mezei
Ronsdale books by Kathy Mezei:
Cuthbert and the Merpeople (illustrations by Anne Stratford)


Kathy Mezei is a professor in the English Department at Simon Fraser University in Burnaby, British Columbia, and specializes in Canadian Literature. She wrote Cuthbert and the Merpeople one summer while camping on Hornby Island. Every day she would take her daughter, Robin, out in a canoe, tell her an episode, and then hurry back to shore where she would quickly type it up on her portable typewriter.