Abbey, Lloyd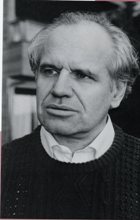 Lloyd Abbey
Ronsdale books by Lloyd Abbey:


Lloyd Abbey was born in London, Ontario, in 1943, and grew up with a deep interest in wild animals, which figure largely in his writing. Educated at McMaster, Western, and the University of Toronto, he taught for many years as a professor of English literature at the University of British Columbia, specializing in the poetry of Percy Bysshe Shelley.
Abbey has published three collections of poetry, including Ronsdale's 1989 Selections: 1959–1989, which contains many of his finest poems. He has had a major success with his novel Follow the Whales, which was translated into a number of languages. He now lives in Vancouver, British Columbia, where he writes full time.