Armstrong, Luanne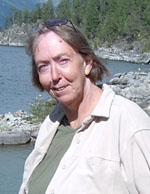 Luanne Armstrong
Ronsdale books by Luanne Armstrong:
Luanne Armstrong, MFA, Ph.D, is a novelist, freelance writer, editor, and publisher. She is deeply interested in writing about place and nature. Her research interests also include the ethics of autobiographical writing, ecological identity, and writing as inquiry. She has published over fifty stories and essays in magazines and journals, and is the author of fourteen books, including poetry, novels, and children's books. She has been nominated for numerous prizes and awards. Her first novel, Annie was a best-seller in Germany. Her YA novel, Jeannie and the Gentle Giants, was nominated for Canadian Library Association's Book of the Year, the Sheila Egoff BC Book Prize Award and the Red Cedar Award. It placed second in the Silver Birch Award. It was also named by McNally Robinson Booksellers in Winnipeg as one of their top ten all time best children's books.
Luanne has taught Creative Writing for many years at the college level including at Langara College, and at summer schools in BC and Alberta. She is a popular speaker and workshop leader at writing conferences. She is presently working on a book about the ethics of autobiographical writing for Pacific Educational Press as well as a book of essays about environmental ethics. She is an adjunct professor of Creative Writing at the University of British Columbia.
Luanne currently lives on her organic heritage farm in the Kootenay region of BC.