Choo, Mary
Mary Choo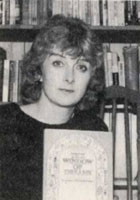 Ronsdale books by Mary Choo:


Mary E. Choo is a fantasy and science fiction poet and writer who lives in Richmond, British Columbia. She attended the University of British Columbia, and in recent years her work has placed in a number of contests, including the poetry category of the Cross-Canada Writers' Magazine annual competition and the American Amelia Awards.
Choo's poetry has appeared in publications in both Canada and the United States, among them the Methuen children's anthology, The Window of Dreams, Mamashee, Scrivener, and Amelia. She has had fiction accepted by The Twilight Kingdom and Sword and Sorceress VI.