Holmes, Nancy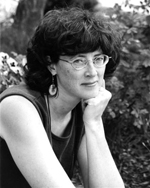 Nancy Holmes
Ronsdale books by Nancy Holmes:
Nancy Holmes has published several books of poetry: The Flicker Tree (Ronsdale, 2012), Mandorla (Ronsdale, 2005), The Adultery Poems (Ronsdale, 2002), Down to the Golden Chersonese: Victorian Lady Travellers (Sono Nis, 1991) and Valancy and the New World (Kalamalka Press, 1988).
She was born in Edmonton, Alberta, went to high school in Toronto and university in Calgary where she received her MA in English. She has lived in the Okanagan valley of British Columbia for many years and teaches Creative Writing at the University of British Columbia Okanagan. She is the mother of three grown-up sons and lives in Kelowna BC.