Bowman, Patrick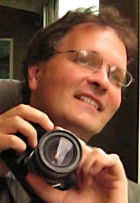 Patrick Bowman
Ronsdale books by Patrick Bowman:


Patrick Bowman was born in Ottawa and grew up in Toronto. After writing software for twenty years, he slipped the corporate bonds to become a full-time children's author. The trilogy, "Odyssey of a Slave," grew out of his long-time interest in the Greek classics. Torn from Troy, the first volume in the trilogy, received rave reviews from the schools.
Patrick lives in Toronto with his wife and two daughters. For more information about Patrick Bowman and his work, visit patrickbowman.ca.