Stanwood, Paul G.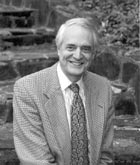 Paul G. Stanwood
Ronsdale books by Paul G. Stanwood:


P. G. Stanwood, Professor Emeritus of English at the University of British Columbia, is the former president of the John Donne Society of America, with special interest in Renaissance poetry and its continuing influence on contemporary writing.
Standwood's books and editions include John Donne and the Theology of Language and also Selected Prose of Christina Rossetti. Many of his essays are collected in The Sempiternal Season: Studies in Seventeenth-Century Devotional Writing, including "Time and Liturgy in Donne, Crashaw, and T. S. Eliot." A wide-ranging study on "The Structure of Wit" (with Lee M. Johnson) appeared in The Wit of Seventeenth-Century Poetry (Columbia, MO, 1995).