Zend, Robert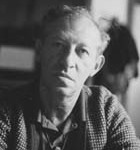 Robert Zend
Ronsdale books by Robert Zend:


Robert Zend, poet, author, documentary producer and inveterate doodler, emigrated to Canada in 1956 following the Soviet invasion of Hungary. He received his undergraduate degree from the Peter Pazmany University in Budapest in 1953, and earned an M.A. in Italian literature from the University of Toronto in 1969.
Zend was a prolific writer in both English and Hungarian. His collections of poetry include From Zero to One, Beyond Labels and a series of The Three Roberts poetry readings with Robert Priest and Robert Sward. Some of his short stories, on the themes of dreams and time, were published in Daymares. Arbormundi and My Friend Jeronimo feature some of his visual work and concrete poetry. Foremost among his English-language publications, however, is the multi-genre creation of a miniature universe: Oab.