Chambers, Ruth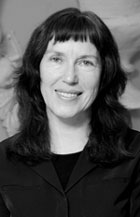 Ruth Chambers
Ronsdale books edited by Ruth Chambers:


Ruth Chambers, who is a co-editor of Ronsdale's Utopic Impulses (2007) – along with Amy Gogarty and Mireille Perron – is a visual artist. Her projects have explored various cultural, medical, and metaphysical endeavors that have aimed to transcend and reconcile concepts of the material and immaterial, and the internal and external.
Chambers has also given papers, participated in symposia, and chaired academic panels. She has taught at the University of Regina since 1994 and is currently Professor of Visual Arts/Ceramics.