Han, Yong-un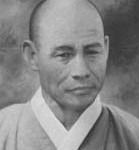 Yong-un Han
Ronsdale books by Yong-un Han:
Love's Silence and Other Poems (selected and translated by Jaihiun Kim and Ronald B. Hatch)
Yong-un Han (1879-1944), or as he was known by his pen name "Manhae" (Ten Thousand Seas), was among the handful of early pioneer poets of the modern period. He remained detached from the literary groups of the time, and he deliberately refused to write in conventional syllabic counts or in forms characteristic of folk ballads and lyric poems. Han's poetry was written largely in the form of free verse. His writing was deeply religious and meditative, and he found it necessary to work against the older forms to find a new expression for his religious sensibility.
In addition to his work as a poet, Han was one of the foremost patriots of his time. During the Japanese colonial period (1910-1945) he was in the vanguard of resistance. For his participation in the Independence Movement of 1919, he spent three years in ail; in 1938 he was again arrested and jailed by the Japanese police because of his activities in the resistance movement.
His most important collection of poems Love's Silence was completed in 1925 at Paek-dum temple, a remote mountain retreat in Kangwon Province, and the volume was published the next year. The poems, eighty-eight in all, form a eulogy to love in all its varied and complex meanings.