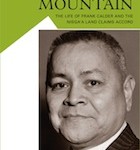 Joan Harper will host a launch event for our brand new release, He Moved a Mountain: The Life of Frank Calder and the Nisga'a Land Claims Accord, in Sechelt, BC. The event will be held at the Sunshine Coast Arts Centre from 7 to 9pm on May 17, 2013.
The Sunshine Coast Arts Centre is located at 5714 Medusa at Trail Avenue in Sechelt.
This entry was posted on Wednesday, May 8th, 2013 at 4:21 pm and is filed under
Events
.