Adrift in Time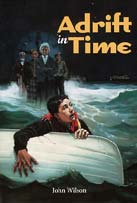 Adrift in Time
$9.95
Autumn 2003
ISBN 978-1-55380-007-1 (1-55380-007-9)
5-1/4″ x 7-5/8″ Trade Paperback, 136 pages
Young Adult Novel, BC History


Set in the present day, John Wilson's young adult novel Adrift in Time explores the tensions in family life between parents and children. It also demonstrates how the new generation's knowledge of the family's past can ease those tensions.
The novel opens with Ian, a teenager, finding that he no longer enjoys spending his summer holidays at the family cottage on Mayne Island in British Columbia. He misses the fun of being with his friends in the city. Arguments with his father grow more and more frequent, and Ian feels that his dad refuses to see his point of view, always going on about the old days and long-dead relatives.
After one nasty argument, Ian takes off in his boat to assert his independence by rowing to the next island. But things go seriously wrong as the current sweeps Ian out to the open water of Georgia Strait. When night falls and rain begins to pelt down, Ian recognizes that hypothermia is setting in. But even as hope fades, ghosts suddenly begin appearing. Led by Emily, Ian's great grandmother, a succession of long-dead ancestors and local characters appear on the boat telling him their stories—the stories of pioneer life on the Gulf Islands—bringing understanding of his family and inspiring Ian to persevere until dawn brings rescue.
"Gentle ghosts, the wild Pacific ocean and a boy's growing awareness of his family's history blend perfectly. A fine story, beautifully told." — Ann Walsh
Also by John Wilson:
Reviews
"Wilson shifts realities in a convincing way and his evocation of island life—on land and water, now and then, is masterful."
— Globe and Mail
"a pleasant blend of history and fiction, and a fine starting point to discovering the history of the Islands."
— Resource Links