Barclay Family Theatre, The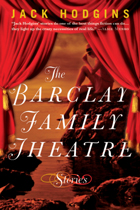 The Barclay Family Theatre
$18.95
February 2012
ISBN 978-1-55380-144-3
ebook ISBN 978-1-55380-155-9
PDF ISBN 978-1-55380-170-2
6″ x 9″ Trade Paperback, 272 pages
Novel


With The Barclay Family Theatre, his second collection of short stories, Jack Hodgins introduces us to a cast of characters who transform the everyday world of Vancouver Island into a wondrous world of human warmth and comic energy. There is Barclay Desmond, caught between the ambitions of his mother, who wants him to become a concert pianist, and his father who wants him to follow in his steps as a logger. There is Mr. Pernouski, a real estate agent and the fattest man to ride a B.C. ferry, who believes he can offer his clients their heart's desire. Hodgins also takes us abroad to Ireland and Japan to watch as his people attempt to reinvent themselves in new theatres of action. Through it all, Hodgins depicts his people struggling to centre themselves as their world rocks them into new and unforeseen directions.
Click here to read an excerpt from chapter one of The Barclay Family Theatre
Chapter One:
The Concert Stages of Europe
NOW, I KNOW Cornelia Horncastle would say I'm blaming the wrong
person. I know too that she would say thirty years is a long time to hold
a grudge, and that if I needed someone to blame for the fact that I made
a fool of myself in front of the whole district and ruined my life in the
process, then I ought to look around for the person who gave me my
high-flown ideas in the first place. But she would be wrong; because
there is no doubt I'd have led a different sort of life if it weren't for her
and that piano keyboard her parents presented her with on her eleventh
birthday. And everything — everything would have been different if
that piano keyboard hadn't been the kind made out of stiff paper that
you unfolded and laid out across the kitchen table in order to do your
practising.
I don't suppose there would have been all that much harm in her
having the silly thing, if only my mother hadn't got wind of it. What a
fantastic idea, she said. You could learn to play without even making a
sound! You could practise your scales without having to hear that awful
racket when you hit a wrong note! A genius must have thought of it, she
said. Certainly someone who'd read his Keats: Heard melodies are sweet,
but those unheard are sweeter. "And don't laugh," she said, "because Cornelia
Horncastle is learning to play the piano and her mother doesn't
even have to miss an episode of Ma Perkins while she does it."
That girl, people had told her, would be giving concerts in Europe
some day, command performances before royalty, and her parents hadn't
even had to fork out the price of a piano. It was obvious proof, if you
needed it, that a person didn't have to be rich to get somewhere in this
world.
In fact, Cornelia's parents hadn't needed to put out even the small
amount that paper keyboard would have cost. A piano teacher named
Mrs. Humphries had moved onto the old Dendoff place and, discovering
that almost no one in the district owned a piano, gave the keyboard
to the Horncastles along with a year's free lessons. It was her idea, apparently,
that when everyone heard how quickly Cornelia was learning
they'd be lining up to send her their children for lessons. She wanted to
make the point that having no piano needn't stop anyone from becoming
a pianist. No doubt she had a vision of paper keyboards in every
house in Waterville, of children everywhere thumping their scales out
on the kitchen table without offending anyone's ears, of a whole generation
turning silently into Paderewskis without ever having played a
note.
They would, I suppose, have to play a real piano when they went to
her house for lessons once a week, but I was never able to find out for
myself, because all that talk of Cornelia's marvellous career on the concert
stages of Europe did not prompt my parents to buy one of those fake
keyboards or sign me up for lessons with Mrs. Humphries. My mother
was born a Barclay, which meant she had a few ideas of her own, and
Cornelia's glorious future prompted her to go one better. We would
buy a real piano, she announced. And I would be sent to a teacher we
could trust, not to that newcomer. If those concert stages of Europe were
ever going to hear the talent of someone from the stump ranches of
Waterville, it wouldn't be Cornelia Horncastle, it would be Barclay
Desmond. Me.
My father nearly choked on his coffee. "But Clay's a boy!"
"So what?" my mother said. "All those famous players used to be boys.
What did he think Chopin was? Or Tchaikovsky?"
My father was so embarrassed that his throat began to turn a dark
pink. Some things were too unnatural even to think about.
But eventually she won him over. "Think how terrible you'd feel,"
she said, "if he ended up in the bush, like you. If Mozart's father had
worked for the Comox Logging Company and thought piano-playing
was for sissies, where would the world be today?"
My father had no answer to that. He'd known since before his marriage
that though my mother would put up with being married to a
logger, expecting every day to be made a widow, she wouldn't tolerate
for one minute the notion that a child of hers would follow him up into
those hills. The children of Lenora Barclay would enter the professions.
She was right, he had to agree; working in the woods was the last
thing in the world he wanted for his sons. He'd rather they take up
ditch-digging or begging than have to work for that miserable logging
company, or take their orders from a son-of-a-bitch like Tiny Beechman,
or get their skulls cracked open like Stanley Kirck. It was a rotten
way to make a living, and if he'd only had a decent education he could
have made something of himself.
Of course, I knew he was saying all this just for my mother's benefit.
He didn't really believe it for a minute. My father loved his work. I could
tell by the way he was always talking about Ab Jennings and Shorty
Cresswell, the men he worked with. I could tell by the excitement that
mounted in him every year as the time grew near for the annual festival
of loggers' sports where he usually won the bucking contest. It was obvious,
I thought, that the man really wanted nothing more in this world
than that one of his sons should follow in his footsteps. And much as I
disliked the idea, I was sure that I was the one he'd set his hopes on.
Kenny was good in school. Laurel was a girl. I was the obvious choice.
I even decided that what he'd pegged me for was high-rigger.
I was going to be one of those men who risked their necks climbing
hundreds of feet up the bare lonely spar tree to hang the rigging from
the top. Of course I would fall and kill myself the first time I tried it, I
knew that, but there was no way I could convey my hesitation to my
father since he would never openly admit that this was really his goal
for me.
Click here to close the book excerpt.
"It's unforgettable. . . . The Barclay Family Theatre leaves the reader with the magic and wholeness of extraordinary moments." —Windsor Star

"In The Barclay Family Theatre we are reading the work of a major novelist at the height of his powers and fully in control of his material. . . . It's virtuoso writing." —Keith Maillard, Quill & Quire

"Together these characters form a world full of diversity, illustrating the various facets of the tragicomedy of human life. We remember them as we remember the pilgrims of Chaucer's Canterbury Tales: as actors stepping forward and temporarily holding the whole stage to themselves." —Jeanne Delbaere, Recherches anglaises et americaines
Other Ronsdale books by Jack Hodgins: