Beckett Soundings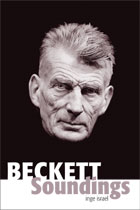 Beckett Soundings
$15.95
March 2011
ISBN 978-1-55380-112-2
ebook ISBN 978-1-55380-123-8
PDF ISBN 978-1-55380-165-8
6″ x 9″ Trade Paperback, 100 pages
Poetry


In this collection of poems, Inge Israel works through Samuel Beckett's letters, his biographies and his actual plays and novels to probe the imagination that created his artistic works. Arguably the pre-eminent avant-garde and most influential writer of the 20th century and a legend in his own time, Beckett presents many glaring paradoxes.
Beckett was born in a country ruled by the Catholic Church yet raised by a strict and devoutly Protestant mother. He loved the King James Bible and knew long passages of it by heart but did not believe in it. He loved his mother but fought to free himself of her influence. He loved Ireland but left to live in France. He loved the classics yet despaired of language being able to express anything meaningful.
He dearly loved to be in the company of close friends yet even in their midst remained a solitary man, almost misanthropic. His outlook was gloomy, but he also had a streak of humour. Israel's poems open a new and remarkable window on this writer of many contradictions.
Click here to read a poem from Beckett Soundings
The StakeOf the mother tongue, so aptly
named, every syllable pulls
and tugs till, desperate, you can
only think: Away!
away to another language
with no strings.
A clean break. That's far enough,
you think, enough is plenty
but find it isn't, for you go on
looking under the bed, outside
your door, scanning the night
beyond for freedom
like a goat still tied
to its stake though it has pulled
it up and now must drag it along
at every step.
Click here to close the book excerpt.
Reviews
"Isreal boldly attempts to capture the essence of Samuel Beckett's paradoxical character. … In 'Waiting for Godot,' Isreal succeeds at perpetuating the play's infamous ambiguity through her verse. 'What a free-for-all this play / has led to—with no end in sight.' " – Alexis Foo, Canadian Literature
"Inge Israel has captured Beckett's most intimate, least public voice, in these poems, the siren call of deep lament….Beckett Soundings is an examination of Beckett's mature and minimalist voice.  Inge Israel has adopted that voice with clarity and confidence." –Michael Dennis
Also by Inge Israel: