Brave Soldiers, Proud Regiments: Canada's Military Heritage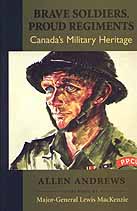 Brave Soldiers, Proud Regiments
Canada's Military Heritage
$24.95
Autumn 1997
ISBN 978-0-921870-50-0 (0-921870-50-7)
6″ x 9″ Trade Paperback, 512 pages
Canadian History, Military


Designed for the general reader as well as the student of Canadian history, Brave Soldiers, Proud Regiments recounts the colourful story of our military's past through the personalities and accomplishments of its soldiers. The twenty-six chapters commence with the 1759 Battle of the Plains of Abraham and the stirring story of Loyalist soldiers during the American Revolution.
It presents the accomplishments of the 19th-century figures Sir Isaac Brock, Light Brigade hero Alexander Roberts Dunn, V.C., Sir John Inglis, whose defence of Lucknow's Residency became a Victorian epic, and British officers Garnet Wolseley and Frederick Middleton, who led expeditions against Riel. Great War sketches include the moving story of the Princess Patricia's Canadian Light Infantry and an account of Sir Julian Byng, who led the Canadian Corps to victory at Vimy Ridge.
World War Two stories include portraits of senior commanders Andy McNaughton and Harry Crerar as the "D-Day Dodgers" – Canadians who fought in Italy. Our country's modern role as a peacekeeper is examined in accounts of Rocky's (John Meredith Rockingham's) Special Force in Korea, and Lewis MacKenzie's novel role as a UN general commanding "Sector Sarajevo" in former Yugoslavia. Closing with an account of the new airborne companies, Brave Soldiers, Proud Regiments presents a superb account of two centuries of Canada's military heritage.