Chasing a Star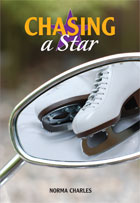 Chasing a Star
$10.95
Autumn 2009
ISBN 978-1-55380-077-4
ebook ISBN 978-1-55380-366-9
PDF ISBN 978-1-55380-367-6
5-1/4″ x 7-5/8″ Trade Paperback, 182 pages
Young Adult Novel


When Sophie LaGrange hears that her idol, Olympic gold medal winner Barbara Ann Scott, is coming to town to star in the Hollywood Ice Review in the fall of 1951, she can't wait to meet the famous figure skater. But Sophie's mother says they can't afford the tickets for the show, so Sophie plots to meet Barbara Ann some other way.
Sophie's older brother Joseph says that he has seen Barbara Ann practising at the hockey arena. This gives Sophie a daring idea! But Sophie is not the only one hanging out at the arena — the Satan's Rebels motorcycle gang has a meeting spot nearby. It seems that Sophie is running into the members of the infamous gang everywhere, and they are not a friendly bunch.
Sophie is horrified when she discovers that the Rebels are trying to recruit Joseph. Then, to make matters worse, Sophie hears about an sinister plot that would harm Barbara Ann. Will Sophie be able to save her? And what can she do to stop her brother from joining a dangerous gang?
"Norma Charles has a real gift for understanding the feelings, interests and concerns of developing readers. In Chasing a Star, children will enjoy not only the trials of young Sophie, but also the very readable introduction to Canadian figure skating legend, Barbara Ann Scott."
— Linda Bailey, winner of the Red Cedar and Silver Birch awards
Also by Norma Charles:
Reviews & Awards
Shortlisted for the Red Ceder Book Award
Shortlisted for the Chocolate Lily Award
"Very well-written and does a great job of portraying the characters . . . Norma Charles is really an inspiring writer."
— What If? magazine
"The plot is well paced and the narrative flows smoothly . . . an appropriate choice in this pre-Olympic year."
— CM Magazine
"There is no lack of excitement in this well paced story."
— Canadian Teacher Magazine
"an ideal mix of adventure and real life history"
— Canadian Bookseller
"Meeting an idol, getting to perform in the big show, making a new friend, concern about ones family; these themes will all resonate with young girls."
— Resource Links
"Chasing a Star is a fast-paced story of a young girl's determination to meet Barbara Ann Scott, set against a backdrop of bikers' idle threats and whispered rumours."
— FernFolio