Craft Perception and Practice: A Canadian Discourse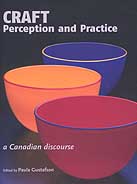 Craft Perception and Practice
A Canadian Discourse
$24.95
Autumn 2002
ISBN 978-0-921870-94-4 (0-921870-94-9)
ebook ISBN 978-1-55380-082-8
7-1/2″ x 10″ Trade Paperback, 224 pages
Canadian Art, Craft


Canada's ceramists, tapestry weavers, and other craft artists are recognized amongst the world's finest artisans. Nationwide the craft industry has more than 25,000 practitioners and annual sales in excess of $1 billion, making it one of Canada's unrecognized success stories. Craft Perception and Practice celebrates the excellence of Canadian crafts by bringing together twenty-four essays and critical commentaries by sixteen independent critics and curators, professional artists, art historians, and studio art instructors.
Highly readable texts by internationally published authors Glenn Allison, Amy Gogarty, Paula Gustafson, Paul Mathieu, Gil McElroy, and Anne McPherson — as well as by noted Canadian painter Mary Pratt — discuss the conceptual, social, and cultural significance of craft media, engage linguistic and feminist theories, and consider aspects of tactile, sensual, and tacit knowledge in the context of works by a distinguished group of Canadian craft artists that includes Prix Saidye Bronfman Award winners Steven Heinemann and Léopold L. Foulem.
The inaugural edition of a three-volume series, Craft Perception and Practice features substantive writing about contemporary Canadian craft presented at conferences, in national and international periodicals, and in exhibition catalogues during the past decade. Illustrated with 37 full-page colour photographs. Indexed.
"For decades the community of craftspeople and their supporters in Canada have lamented the lack of an informed and vibrant discourse about this activity. There is finally some good research on craft history in print and production, and this volume promises to provoke more critical discussion on the personal, social, and aesthetic programs of artists who work in craft media."
— Dr. Stephen Inglis, Director General of Research, Canadian Museum of Civilization
Craft Perception and Practice is an achievement to be celebrated. These essays will inspire and inform practising craftspeople, teachers, and students of current ideas and directions in contemporary craft practice. Collectors and the general public will appreciate this comprehensive resource on current practitioners and their work."
— Jean Johnson, CM, Craft Projects Manager, Harbourfront Centre
"This collection of essays on the diverse nature of craft is an important contribution to the developing field of Canadian craft history, theory, and critical writing. Craftspeople, curators, historians, administrators, instructors, and those interested in the crafts will find this volume to be an essential read."
— Sandra Alfoldy, Phd, Craft Historian, Nova Scotia College of Art and Design
"As the interest in visual culture and its relationship to society escalates, this series promises to bring new discussions of craft theory and practice to the attention of Canadian readers. The work opens up new areas for research, challenges the traditions of display, and examines the critical reception of craft and design. This is a long-awaited and eagerly anticipated project."
— Janice Helland, Phd, Professor of Art History and Women's Studies, Queen's University
The Craft Perception and Practice Series:
__________________________________________________________________________________________________
Reviews
"an attractive, affordable, and accessible compilation of well written, well illustrated, and well researched essays."
— The Craft Factor
"an example of fine craftsmanship that appropriately represents the crafts it celebrates."
— Art Documentation Reviews
"If you write or think about art, or even occasionally consider things placed in the "craft" category, this book is a very good read."
— Times Colonist
"crisply designed and carefully produced . . . mimicking some of the attributes of craft."
— Vancouver Sun