Craft Perception and Practice: A Canadian Discourse, Volume III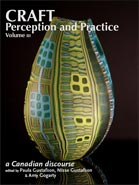 Craft Perception and Practice
A Canadian Discourse, Volume III

$26.95
October 2007
ISBN 978-1-55380-052-1 (1-55380-052-4)
ebook ISBN 978-1-55380-084-2
7-1/2″ x 10″ Trade Paperback, 220 pages
Craft


This third and final volume in the Craft Perception and Practice series features 21 essays and critical commentaries by acclaimed Canadian practitioners, educators and curators, demonstrating the range of critical thought about craft as presented in symposiums, exhibition catalogues and art journals. Over 40 full-colour photographs of works in craft media — including fibre, glass, ceramics, metal, wood and "new materials" — accompany the essays.
The texts in this volume explore the conceptual, social and cultural significance of craft practice today, and describe new initiatives in conceptualizing craft practices in contemporary life. Essays by prominent academics and theorists such as Paul Mathieu (2007 Saidye Bronfman Award winner), Sandra Alfoldy, Arlene Oak, and Kirsty Robertson discuss craft in terms of political and social activism, gender theory, semiotics and aesthetics, analyzing shifting boundaries between craft, fine art and design.
Artists Mackenzie Frère, Murray Gibson and Ruth Scheuing discuss their own work, providing insight into the relationship between skill, technology, history and personal expression. The diversity of contemporary craft practice is well-represented in essays by Mireille Perron, Shannon Stratton, Glenn Allison and others, whose thoughtful analyses raise challenging questions about craft practice today.
Volume III of Craft Perception and Practice substantiates academic advancement of craft curricula and provides an authoritative springboard for debate and discussion among craft practitioners, educators, curators and collectors.
"This final volume of the important Craft Perception and Practice series is filled with a powerful mixture of established and emerging voices in the Canadian craft community and offers an exciting glimpse of future directions for the field."
— Sandra Alfoldy, PhD, Assistant Professor of Craft History, Nova Scotia College of Art & Design
"Craft Perception and Practice Volume III follows volumes I and II in continuing an authoritative discourse on contemporary Canadian craft. Illustrated with superb images of work by a cross-section of craft artists, this handsome publication celebrates ideas and theoretical research and is an important resource for teachers, collectors, curators and craft artists."
— Jean Johnson, Manager of Special Craft Initiatives, Harbourfront Centre
"The three volumes of Craft Perception and Practice have enriched fine craft scholarship and enthralled collectors, curators and artists. Craft Perception and Practice Volume III ably demonstrates that there are still many rich and varied topics to explore and delve into in the ongoing exploration of contemporary craft practice. A deft editorial touch and expansive vision are reflected in the range of writers who participated and in the extensive subject matter covered. Craft Perception and Practice Volume III is an important testament to the belief in the power of craft and of writing."
— Virginia Eichhorn, Curator, Canadian Clay & Glass Gallery
The Craft Perception and Practice Series: