Daymares: Selected Fictions on Dreams and Time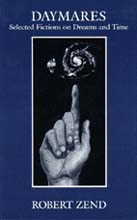 Daymares
Selected Fictions on Dreams and Time
$12.95
1991
ISBN 978-0-921870-12-8
ebook ISBN 978-1-55380-370-6
PDF ISBN 978-1-55380-371-3
5-1/2″ x 8-1/2″ Trade Paperback, 186 pages
Experimental Fiction


Robert Zend's eleventh book continues his wonderfully surreal explorations of the mind trapped in the paradoxes of time and space. This posthumous edition includes a Foreword by John Robert Colombo and an Afterword by Northrop Frye.
"Zend was a notably free spirit who was among us for a while and, who, now that he has gone, is irreplaceable. All we can do is read and admire what he has left us."
— Northrop Frye
"You created your dream-son the way my magician in "Circular Ruins" created his dream-son. You consider me one of your masters, yet you were my pupil even before reading my work."
— Jorge Luis Borges
"Zend's body occupied the place in space and time that all of us share, but his ruminative mind and especially his perfervid imagination seemed to me to make their hearth on some other planet. This planet is quite unlike our planet Earth."
— John Robert Colombo
For further information on this book and the author's work, please visit The Robert Zend Website.
Also by Robert Zend: