Dream Helmet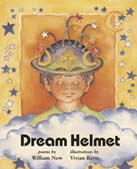 Dream Helmet
$14.95
Spring 2005
ISBN 978-1-55380-021-7 (1-55380-021-4)
7-1/2″ x 10″ Hardcover, 32 pages
Picture Book, Poetry


Join the children in this delightful picture book, children who dream of skateboarding through the galaxy, of meeting a guitar-playing hippopotamus, of feeding a baby brother who eats EXPLOSIVELY! Find the knock-kneed knight! Travel to Saskatchewan "without your socks and sandals on" — and by the end of the book you'll be walking with an elephant and dancing with an elephant seal, able to speak "Tuque Talk" and sing a "Great Lake Rag"!
One of the poems asks: "How Big are You?" ("as small as a button, as big as a clue") — and whether you're big or little or in between, there's something adventurous and happy for you in Dream Helmet, a superb companion piece to Vanilla Gorilla and Llamas in the Laundry. What happens when you put a "dream helmet" on? Why, ANYTHING CAN HAPPEN — because you'll have the greatest of dreams!
You can ski every hill,
you can hold every curve,
you can dance, you can dodge,
you can swim, you can swerve–
And around every curve
is a rippling stream
to an ocean of stars
where you lie down to dream.
"From dreaming to streaming, from riding to sliding, Bill New's poems and Vivian Bevis's illustrations in Dream Helmet capture and celebrate the rhythms of childhood itself."
— Robert Heidbreder
Also by William New & Vivian Bevis:
__________________________________________________________________________________________________
Reviews
"the collaboration of Bevis's talented brush with New's entertaining words makes the pages come alive to portray the meaningful consolidation of thoughts from a child's day."
— CM Magazine
"This whimsical collection of nonsense poetry will delight small children with its theme of the imaginative potential of dreaming."
— Trek