Father August Brabant: Saviour or Scourge?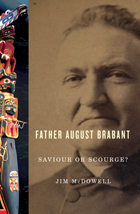 Father August Brabant
Saviour or Scourge?
$24.95
October 2012
ISBN 978-1-55380-189-4
ebook ISBN 978-1-55380-190-0
6″ x 9″ Trade Paperback, 500 pp
45 b&w photos
Biography/History

Father August Brabant (1845–1912) was the first Roman Catholic missionary to live and work among aboriginal people on the west coast of Vancouver Island during the colonial period. He endured long periods of isolation, built a number of log churches and undertook extraordinarily difficult trips along the west coast in dugout canoes. His thirty-three-year-long effort to transform Nuu-chah-nulth culture gives us a provocative case study of the dynamics that shaped, and continue to define, the settler-colonial relationship between indigenous peoples and the state in Canada. Convinced he had a mission to save the indigenous people from being themselves, the zealous priest strove to instill alien spiritual beliefs. He served as a willing instrument for imposing colonial power by introducing new forms of justice, commerce, dress, housing, personal identity, and—most devastating of all—schooling. As the father of British Columbia's first residential school, Brabant precipitated the single institution that proved most destructive to the people he set out to rescue. Brabant's biography will be of interest to historians, anthropologists, political scientists, individuals engaged in First Nations Studies, and general readers.
Reviews & Awards
Shortlisted for the Basil Stuart-Stubbs Prize for Outstanding Scholarly Book on British Columbia

"Although [McDowell's] writing style was clearly based on his extensive, thorough research, for me, it read like a historical novel. The way he ended each chapter left me anticipating moving on to the next, often delaying some chore in order to get into the next chapter." —Sandra Klonsky

"McDowell's look at Brabant is superb, combining information on the priest's life with the appropriate context — the social history of the indigenous people he was trying to save from themselves. . . . This is not merely the story of one priest, but about the clash between two dramatically different viewpoints." —Times Colonist

Also by Jim McDowell