From Green to Gold: New & Selected Poems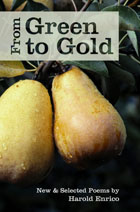 From Green to Gold
New & Selected Poems
$15.95
Spring 2009
ISBN 978-1-55380-067-5
6″ x 9″ Trade Paperback, 154 pages
Poetry


Harold Enrico is that rare poet who combines the deepest traditions of our history, our spirituality, with the colourful imagery of the Pacific Northwest. Enrico's poetry has been selected for Chicago's Poetry Magazine and acclaimed by Theodore Roethke, George Woodcock and Choice magazine.
From Green to Gold contains the finest poems from Enrico's four earlier collections — Now, a Thousand Years from Now, Rip Current, Dog Star and A Second Earth — along with a substantial selection of new poems.
MIDSUMMER PAST
At nightfall we sat in the orchard
and talked beneath the apple trees,
listened to the owl in the cedar
and to our voices lost in the leaves,
thought of the fruit unripened
weighing down the loaded boughs,
heard thunder in the mountains,
felt the warmth rising from the ground,
understood the labour of the root
undoing layers of rock,
felt the strength of darkness
prying open the bones of the earth.
"I believe that his very best work in poetry is as good as any I have seen in English."
— Theodore Roethke
"Enrico pays homage to artistic community with a mastery which always remains contemporary."
— Choice
"His intellect is vital and seemingly fearless."
— Northwest Review
"A superb poet."
— Vancouver Sun
Also by Harold Enrico:
__________________________________________________________________________________________________
Reviews
"I experienced a sense of melancholy and an awareness of the beauty of every moment as I read the poems. . . . From Green to Gold is a collection of poems that prompted images of beauty and caused me to think about nature, art, war and aging. Its eco-friendly printing only lives out the underlying message of the collection, that our world and lives are wondrous."
— Bookstorepeople.com