Grandchild of Empire: About Irony, Mainly in the Commonwealth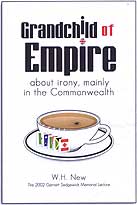 Grandchild of Empire
About Irony, Mainly in the Commonwealth
$12.95
Spring 2003
ISBN 978-1-55380-001-9 (1-55380-001-X)
ebook ISBN 978-1-55380-087-3
6″ x 9″ Trade Paperback, 92 pages
Literary Studies


As W.H. New's Grandchild of Empire shows, irony is not dead, but has found fresh purpose. New looks at the politics of irony in modern writing and explains how it relates to imperial history, how it impacts upon personal memories, how it speaks from the margin, and how it indirectly teaches us to resist presumptuous authority.
Focusing on postcolonial poetry and prose, but also including autobiographical incidents and memories, New establishes how irony speaks "about" – from the outside. He emphasizes the importance of voice in communicating what irony has to say, the necessity of listening closely to how ironic literature speaks. And he draws his examples from around the world, ranging from Canada and the Caribbean to Africa, India and Australia.
Funny, informed and emotionally engaging, Grandchild of Empire, an extension of the 2002 Sedgewick Lecture at the University of BC, demonstrates how writers have actively adapted the English language in order to undermine empty conventions of literary and political power, and to affirm, even in bleak times, self-esteem. Includes eight black and white illustrations.
"W.H. New is radical in his reading of irony, not as a retreat from the world, but as an entry in. He is a rare scholar-poet in his blending of vision and moment; by his bold gestures he bends the stiff arm of Empire."
— Robert Kroetsch
"This critical tour de force forces us to think anew about the politics and poetics of Empire and Independence by teaching us how to listen — an ethical injunction — to the human affirmation that is not only irony's 'oblique achievement' but Bill New's direct gift to us all."
— Linda Hutcheon
Garnett Sedgewick Memorial Lectures:
__________________________________________________________________________________________________
Reviews
"a charming, witty, accessible, and intelligent book"
— Canadian Literature