Hannah and the Spindle Whorl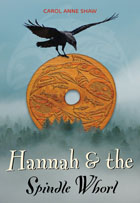 Hannah & the Spindle Whorl
$12.95
Autumn 2010
ISBN: 978-1-55380-103-0
ebook ISBN 978-1-55380-114-6
5-1/4″ x 7-5/8″ Trade Paperback, 244 pages
Young Reader Novel – Ages 9 to 12
When twelve-year-old Hannah uncovers an ancient Salish spindle whorl hidden in a cave near her home in Cowichan Bay, she is transported back to a village called Tl'ulpalus, in a time before Europeans had settled in the area. Through the agency of a trickster raven, Hannah befriends Yisella, a young Salish girl, and is welcomed into village life. Here she discovers that the spindle whorl is the prize possession of Yisella's mother, Skeepla, a famous spinner and weaver. When Skeepla falls victim to smallpox, Hannah finally begins to open up about the death of her own mother.
Hannah and Yisella are then accidentally left behind when the villagers journey to the mainland, and they witness the arrival of Governor James Douglas and numerous settlers on the Hecate. As the settlers pillage the village for souvenirs, Hannah and Yisella rescue the spindle whorl and, pursued by the ship's crew, escape into the dark forest. From the refuge in the cave, Hannah returns to her own time with a greater understanding of herself and the history of the First Nations.
"A remarkably vibrant novel that links friendship and native history across time." —Ann Walsh
A Follow-Up Activity Guide is also available here for Hannah & the Spindle Whorl.
Other Ronsdale titles by Carol Anne Shaw:
Click here to read Chapter 1 of Hannah & the Spindle Whorl
MY NAME IS HANNAH. I live with my dad on a houseboat,
the third one down on the left, dock five. I like the sea and
I like falling asleep to the sound of waves slapping against
the side of our houseboat. I sleep in a loft above my father's
writing room.Yep, there's only room for my bed,my dresser,
and a small table I use for drawing and homework — stuff
like that — but that's okay. It's cosy and sunny, and when I
lie on my stomach on my bed I have a perfect view of Cowichan
Bay and all the neighbouring boats. I like the view best
in the early morning, just as the sun is beginning to rise.
The water is usually still, and the smells of coffee and hot
muffins often drift over from the Toad in the Hole bakery,
which sits on the shore. Skinny cats slink down the docks
looking for boat decks to nap on after a long night of prowling
behind the restaurants and bait shops. The first few cars
headed for the larger cities, like Duncan or Nanaimo, begin
to appear on the old road that snakes in front of the shops.
Our houseboat is made of scraps. Really. But it looks pretty
cool. The cedar shakes were split from some logs taken off
my dad's friend's property, and the windows were salvaged
from a restaurant just before it was torn down. That's why
my bedroom window has the words "Bird's Nest" written
on it. That was the name of the restaurant. The rest of our
houseboat is made from odd bits of lumber that Dad got
from an old sawmill and Mr. Petersen's barn. We have a
wood burning stove in the front room, and there's a funky
winding staircase leading up to my sleeping loft. Dad built
it out of twisted bits of driftwood. But the front door is definitely
the best part. It's made of maple, and has a fern and
periwinkle stained-glass window made by my Aunt Maddie.
My dad carved the posts and lintel out of clear yellow
cedar. It took him almost a year to finish that doorway. It's
full of carvings of all kinds of living things you might see in
and around Cowichan Bay: sea stars, gulls, anemones, crabs,
you name it. If you can find it on our beach, it's probably
carved into our doorway. My favourite carving is the one
on the top left, a little otter floating on his back in a bed of
kelp. Sometimes in the mornings, when I'm watching out
my Bird's Nest window, I've seen an otter just like the one
on our door. He often floats on his back, too, between dock
six and seven, and he's always curious about Ben North's
fishing boat.
I could stay watching for a long time, wrapped up in my
quilt, but then Dad usually bangs on the stair railing with a
wooden spoon and yells, "Come on, Hannah, you'll miss
your bus!" He says this almost every school morning and,
of course, I always remind him that I never do.
The school bus stops just outside the Toad in the Hole
bakery, so if I'm organized and ahead of time, I run down
the dock and up the stairs and push through the screen
door of the Toad where Nell is baking the last of the day's
bread. I love Nell. She's pretty old, at least fifty. She has this
crinkly face and wild grey hair. And she makes the best
bagels I've ever had. If I'm really lucky, she'll push a hot cinnamon
bagel straight into my hand before the bus comes.
The bus ride takes about twenty minutes and I usually sit
at the back because I'm one of the first on. No one talks to
me that much. I know that lots of kids think I'm kind of
weird — probably because my hair is red and corkscrew
crazy. And I live on a homemade houseboat with a father
who writes in his sweatpants all day. Or maybe it's because
my favourite shoes are boys' Wal-Mart black-and-white
basketball high-tops, and everybody knows it isn't cool to
wear those when you're a twelve-year-old girl. But I don't
care. Not that much anyway. My running shoes are my
favourite things, along with the lime-green knitted slippers
Mom made me just before the accident. They're pretty ratty
now and have tons of holes in them, but I wear them all the
time because they remind me of her. I did have a best friend,
Gwyneth, a while back. She was great. She made these amazing
electronic gizmos and was a total science geek, and she
never once made fun of my shoes! But she moved to
Ontario six months ago so right now I'm kind of without a
best friend.Michael and Wesley live two docks over on a big
fancy houseboat, but they're more into fighting with sticks
and playing zombie video games than exploring the woods
with me.
I have this feeling when I get up this morning that it's going
to be a different kind of day. Not an ordinary, go-to-school,
come-home, eat-supper, do-homework, go-to-bed kind of
day. Nope, I feel like something is going to happen. Don't
ask me why. I just get these feelings sometimes. Dad says
I'm "clairvoyant" like Aunt Maddie. I'm not entirely sure
what that means, but I think it has something to do with
being a vegetarian and wearing sandals in the winter.
But this is different. Like when I look out my window,
everything looks really clear and blue, and sharp. What's
even more strange is that I don't feel like lying in bed until
the last minute, or writing one single word in my journal.
And that's not normal for me. I get up right away, get dressed,
and leap down the stairs to the kitchen where my dad is
hanging over the counter, staring intently into the coffeepot.
"What are you looking at?" I ask him.
"The elixir of life," he tells me, scratching his head.
"Huh?"
My dad is always saying bizarre stuff like that and quoting
famous dead people.
"The elixir," he goes on, "the tonic, the stuff of life, the
ambrosia of the modern world, the—"
"Oh." I cut him off."Coffee. Got it. Are there any waffles?"
"Waffles? Oh really? Her ladyship desires waffles, does
she? On a school day, no less.Whole grain with fruit? Freshly
squeezed juice to accompany your meal, madam?"
I get the message and reach for the Cheerios and milk. I
decide that I'll visit Nell on the way to the bus and see if she's
feeling particularly generous with the tomato-basil bagels.
I'm just about through my cereal when Chuck, our orange
tabby, jumps onto the table and starts in on what's left in my
bowl. I don't really mind. Neither does Dad. I know some
people who would totally freak out to have an animal on the
kitchen table eating out of a bowl. Sometimes, when we
have company, Dad goes into his "proper parent mode" and
says things like, "Shooo! Chuck! What the devil are you
doing, you crazy animal?" But more often than not, he'll
give me a wink when no one's looking.Actually, for a parent,
he's pretty cool. He does a lot of "wrong" stuff. Like sometimes,
he lets me stay up late on a school night and read his
work, and eat chocolate chips straight out of the bag. And
once we had a food fight with spaghetti, and the tomato
sauce ended up on the ceiling. He doesn't care about stuff
like mud on your shoes or grass stains on your clothes.
Yep, things are a bit different at our place — Chuck is
crazy too. For a cat, anyway. He'll eat anything. Cereal. Cold
tea. Carrot sticks. Even cold mashed potatoes.And then he'll
go to sleep in the laundry basket, on his back with his legs in
the air. This morning I only have to fling him off the table
once before he gets it and retreats to the laundry room.
Click here to close the book excerpt.
Reviews & Awards:
Winner of the 2011 Silver Medal, MOONBEAM CHILDREN'S BOOK AWARDS

"Hannah's mysterious trip through time is an absorbing adventure, including her near-death experience in a raging river; an encounter with a Sasquatch (or was it?); an unexpected creative gift revealed; a tragic smallpox outbreak; and friendship . . . Hannah and the Spindle Whorl is engrossing good fun and would be a treat for young (and young at heart) readers this Christmas." —Vancouver Sun

"Carol Anne Shaw tells a thoroughly enjoyable tale. Her characters are rich and original, and they allow us to be swept along in an engaging, fantastical tale spanning 150 years. Young readers will love Hannah, and they just might learn something along the way." —Cowichan Valley Voice

"Time travel is difficult to handle well. Here Carol Anne Shaw has fully succeeded. The choice of a local setting makes her tale all the more authentic so that the reader may appreciate that the magic of the journey is centered in that real world. It leaves a sense that magic can, and often does, lie in real places." —Deakin Newsletter

"Hannah is a very fun, sympathetic and lively character, and her hometown and funky houseboat are memorable and convincing."
—CM Magazine

"Carol Anne Shaw has provided readers with an interesting look at Coast Salish culture. By using the spindle whorl as a central plot element, readers will learn about Canadian history, archaeological digs and the preservation of historical artifacts."
—Resource Links

"it so perfectly captured what it was like to be twelve" —What If? Magazine

"Hannah herself is a very likable character — inquisitive and sensitive, intelligent and tough, and yet not overly perfect. She's still trying to cope with the loss of her mother from a car accident 2 years earlier, she lives on a houseboat, her dad's a writer, and yet she comes across as a realistic typical 12 year old. . . . much more depth than a typical juvenile novel." —The Book Mine Set

"Definitely a book I'd recommend for girls…" —All Booked Up

"Carol Anne Shaw weaves the past and present so unseen becomes the seen. Curling up with this book will be enjoyable and broaden youths' view of history." —Anishinabek News