Jeannie & the Gentle Giants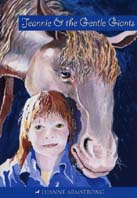 Jeannie & the Gentle Giants
$8.95
Spring 2002
ISBN 978-0-921870-91-3 (0-921870-91-4)
5-1/4″ x 7-5/8″ Trade Paperback, 154 pages
Young Reader Novel – Ages 9 to 12
A separate Teacher's Guide is available for $5.95.

Jeannie and the Gentle Giants, a novel for readers eight to fourteen, deals with the problems experienced by children when they are taken from their parents and have to make a new life with foster parents in a new community. In Jeannie's case, the problems begin when her mother falls ill and can no longer care for her. Taken from her home, placed with foster parents and unable to discover the whereabouts of her ill mother, young Jeannie withdraws into herself and can think only of running away.
Gradually her defences are breached by two immensely large and wonderful workhorses and their perceptive and humorous owner. Through the horses and her work on the farm, Jeannie develops new interests, learns to ride and becomes involved in the daily life of the farm, even helping with horse-logging. In turn, Jeannie learns about friendship, love and trust, and ultimately gains the maturity and self-confidence to accept the challenge of becoming herself a care-giver. In this sensitive and moving story, Luanne Armstrong draws us into a world of pain, growth and fulfilment.
"Luanne Armstrong succeeds in blending action with quiet, unforgettable insight into the inner feelings of people and animals. A thoroughly satisfying read that speaks of courage, trust and inner strength."
— Joan Weir, author of The Brideship and The Principal's Kid
"In this story, the Gentle Giants slowly walk right through our hearts. We will forever remember their presence in Jeannie's life and that the great Gentle Giants never forget."
— Lorne Dufour, horse-logger & award-winning author
Also by Luanne Armstrong:
Reviews & Awards
Shortlisted for the Silver Birch, Sheila A. Egoff (BC Book Prizes), Red Cedar, & Hackmatack awards
Longlisted for the Book of the Year for Children
"A truly touching story, using the theme of a girl and her horses to bring a deeper message through."
— Independently Reviewed
"Luanne Armstrong successfully manages to combine adventure, action and adolescent ups and downs with very perceptive insight into the hearts and minds of her characters . . . I highly recommend this novel for children in grades 5 to 7"
— Resource Links
"[Armstrong's] depiction of farm life and her ability to involve readers in Jeannie's growing love of animals is this novel's strength."
— Quill & Quire
"the real pleasure in reading this book is watching Jeannie work her way through the minefield of her life"
— Geist
"the steady, even pace of the work, combined with the excellent character development, makes this an excellent read."
— CM Magazine
"Highly recommended"
— Hi-Rise Community Newsletter
"a perceptive, beautifully narrated story . . . a wonderful book for children eight to 12"
— Vancouver Sun
"Armstrong's writing is confident, and the quiet pleasures of this honest novel balance the suffering of a girl forced to grow up quickly"
— Kimberley Daily Bulletin