Late Moon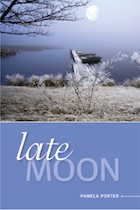 Late Moon
$15.95
February 2013
print ISBN 978-1-55380-236-5
ebook ISBN 978-1-55380-237-2
PDF ISBN 978-1-55380-238-9
6″ x 9″ Trade Paperback, 122 pp
Poetry


This stunning collection will break your heart and put it back together again, as Pamela Porter unravels a long-held family secret in a moving personal search for redemption, face to face with the question of her own identity. As she says, "It was this way when Rome was burning, / and was not so different / when dark fires flared / outside the walls of Eden." These poems brim with deep longing, remorse, the beauty of the natural world, an abiding thirst for the truth, and finally, acceptance and peace, as when there is "a choir of foxes, out from their hollow / in the early dark, / yipping, yipping and singing, / praising the bright, the unkempt world." Late Moon is a testament to the strength of the human spirit and to the transformative power of language – with Porter writing to rise "above the grief-stricken world/ and sing all night."
"Late Moon is a collection rich with ferocity, fragile with wonder. Pamela Porter is a poet to be grateful for." — Patrick Lane
Click here for a sample from Late Moon
Mercy
Let me unlock the doors
to the night's mute houses
where my fathers lie sleeping,
one dead, one living,
both breathing.
I can feel the earth's curve beneath us,
the fulgent, fragrant jasmine
procuring the outer walls,
the small tears in night's fabric.
Let the cats curl up at my fathers' feet.
Let the moon make shadows
outside their windows —
mouse, tree, owl in shallow flight —
the moon
multiplied in their fingernails,
and I, rejoicing
for the lost sheep found,
one dead, one living.
Sometimes we open our eyes in the dark
and nothing is the same.
We wake on one side of eternity
or the other.
Let my fathers wake
each to his own breath
rising like a soul, or a sparrow's
flight across a field, the swoop and dip
its body makes
swimming in the air
Click here to close the book excerpt.
Other Ronsdale books by Pamela Porter:
Reviews
"Porter fights through various notions of what family is and her place in it. . . . [T]he tension Porter is able to sustain over the course of this entire book . . . is the quiet we reserve for when we listen to things we don't necessarily want to hear, but we know the importance of the saying." — Michael Dennis
"Porter is committed to the short lyric poem, but Late Moon also works on the mystery of Porter's paternity, along with how she feels about the subject. . . . With precise line lengths and spacing, judicious use of repetition, parallelism and splendid imagery, Porter grapples with a basic human question — who am I? — and manages to transcend the particular to create nuanced questions for all readers." — Times Colonist
"Prompted not only by longing but also by a redemptive grace that accepts and forgives, these poems tumble out heartfelt and move the reader with their urgency." – Arc Poetry Magazine