Les sables mouvants / Shifting Sands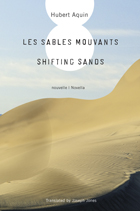 Les sables mouvants /
Shifting Sands
$19.95
Autumn 2009
ISBN 978-1-55380-078-1
6″ x 9″ Trade Paperback, 110 pages
Novella (Bilingual French & English)


This bilingual edition is the first English translation of Aquin's groundbreaking novella. It is also the first time it appears in French, outside of the multi-volume critical edition. With this novella the young Aquin turned away from ordinary narrative towards the signature qualities of his later writing. Frank sexuality, grotesque imagery and an autobiographical context helped to keep this story from previously being published.
Alone in exotic Naples, an impassioned François anticipates the arrival of his girlfriend Hélène. Uncertainty and impatience warp his waiting into an obsessive mélange of recollection and speculation. His interior monologue threads its way through a disorienting universe of a claustrophobic dilapidated hotel room, hostile incomprehension in the streets of a foreign city, and a train station where the anticipated rendezvous cannot occur. Unremitting psychological exploration drives the narrator towards an extreme personal apocalypse.
Joseph Jones' accompanying essay situates the novella with reference to other works in which psychic conditions generate a striking literary representation that appears to operate largely outside of any conscious tradition. Included also is an "Appreciation" by Marie-Claire Blais.
"Worthy of Kafka's Metamorphosis and approaching it in tone, elegance and despair. . ."
— Marie-Claire Blais, Governor General's Award Winner, 1996
__________________________________________________________________________________________________
Reviews
"The author skillfully stages the situation, drawing the reader into multiple levels of despair. . . . Few Canadian authors are lucky enough to be translated into the other official language. Hubert Aquin is presented in an annotated, critically examined bilingual edition. Other deceased authors belong to the ages, while he is delivered into the custody of academics, language teachers and other interested professionals."
— Prairie Fire
"la beauté violante de ses images sensuelles est fidèlement rendue par la traduction."
— Etudes canadiennes