Love's Silence and Other Poems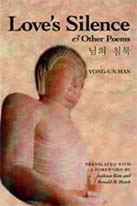 Love's Silence and Other Poems
$14.95
ISBN 978-0-921870-62-3 (0-921870-62-0)
6″ x 9″ Trade Paperback, 136 pages
Poetry, Korean Translation


Yong-un Han (1879-1944) is recognized as Korea's finest Buddhist poet of the twentieth century and also one of the country's most influential political activists in the struggle against Japanese imperialism. Yong-un Han's Buddhist insights and political passion combine to give his poetry great spiritual power. He describes the complexities of love as beginning in the desire for total union and leading to an illumination of the void or nothingness.
Delighting in paradox, these are poems that tease us into a subtle understanding of the limitations of both self and union, while never denying the importance of political struggle. Now Jaihiun Kim and Ronald B. Hatch have translated his most famous collection — Love's Silence — along with a selection of 16 other poems. Included also is a foreword detailing the life and publications of Yong-un Han.
Autumn Flowers
An idle person in a mountain cabin,
moved by pity for autumn flowers,
pruned his hedge
to let in the sun.
The west wind strode over the hedge
and mowed down the flowers.
"Yong-un Han's poems marry exquisite rhetorical shapes with expressions of the subtlest emotional distinctions to bridge ancient Zen traditions and 20th-century Western free verse. It is a civilized and exciting fusion, multi-faceted, and transformational — translated with music and clarity."
— Harold Rhenisch