Peyote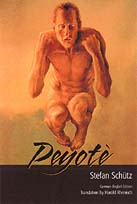 Peyote
$14.95
Autumn 2001
ISBN 978-0-921870-89-0 (0-921870-89-2)
5-1/2 x 8-1/2 Trade Paperback, 96 pages
Fiction, German Translation, Native Studies


In this darkly comic monologue by one of the masters of contemporary German theatre, a German tourist visiting Banff is forced to wait out a thunderstorm in the cabin of an old shaman. By the time the night is over he has been humiliated, mocked, and enlightened, has undergone a nightmare voyage through the worlds of the living and the dead, and has been initiated into ancient shamanistic mysteries and into the peyote cult. All is, however, not as it seems.
Stefan Schütz turns long practice at rewriting Greek tragedies in the context of contemporary dictatorships into a contemporary tragedy of the confrontation of the western cult of the individual with the Native American world of myth. The tragedy follows the stages of a peyote vision. It is a shocking world of black comedy which deconstructs romantic verbal, visual, and cultural clichés, including those of deconstruction itself. The tragedy is inescapable, unexpected, and devastating, but is made even more human and generous for that.
In the course of this play's vision, the fall of the Berlin Wall, the guilt of patriarchy, the patronizing and colonializing qualities of contemporary tourism, and the seductions of technology merge with stories of Windigo and Coyote, with the scenery of Banff, with a playful use of language, in one writer's uncompromising search for a world of humanity past seductions of Utopia. Peyote is a dual-language publication: English on one side of the page, German on the other.
"This tale invites us to cross a surprising double bridge over two cultures. A German writer who has been compared to James Joyce in his own country has convincingly taken on the voice of a North American Native; his translator has rendered the luminous text into the Canadian/English idiom, thus bringing it, as it were, back to its intended spiritual habitat. That the publisher has provided us with both the German and the English text makes the book a small literary treasure."
— Professor Marketa Goetz-Stankiewicz, German Dept., University of B.C.
"It is as if Carlos Castenada had met the Berlin Wall. The result: one of the greatest pieces of clowning in years."
— Horst Martin, Victoria Bookseller