Pnina Granirer: Portrait of an Artist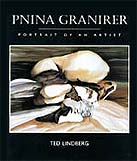 Pnina Granirer
Portrait of an Artist
$39.95
Spring 1998
ISBN 978-0-921870-54-8 (0-921870-54-X)
9″ x 11″ Trade Paperback, 194 pages
Art Book, Women's Studies
Also available in Hardcover with an original, signed print for $199.95.
ISBN 978-0-921870-59-3 (0-921870-59-0)


In Pnina Granirer: Portrait of an Artist Ted Lindberg captures the development in life and art of one of Canada's finest painters. Over the past forty years Pnina Granirer has been exploring and extending her perception of the world around us with exuberantly colourful and formally innovative paintings and prints.
Lindberg analyzes in detail Granirer's art from her early years in Romania through her student drawings in Israel to her mature works in Canada. He offers detailed accounts of the major thematic developments: the Childhood Magic Series, the West Coast Suite, the Carved Stones Series, the Trials of Eve Suite, and the Eden Series. Lindberg also reveals how Granirer's recent work successfully challenges the age old nature/culture dichotomy and re-configures the vision of the artist to include Woman in all her many guises.
Lavishly illustrated, Pnina Granirer: Portrait of an Artist contains over 200 reproductions of her finest paintings, with over 100 in museum-quality colour. A special section is devoted to her work as a printmaker. The book also provides an extensive bibliography, listing Granirer's artistic activities, her exhibitions, collections and commissions.
"This wonderful book tells the rich story of Granirer's continuing quest to find answers to life's most important questions."
— Nicholas Tuele, Asst. Director/Chief Curator, Art Gallery of Greater Victoria