Resurrection of Joseph Bourne, The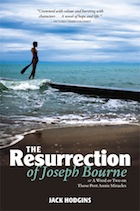 The Resurrection of Joseph Bourne:
Or a Word or Two on Those Port Annie Miracles
$18.95
March 2013
print ISBN 978-1-55380-239-6
ebook ISBN 978-1-55380-240-2
PDF ISBN 978-1-55380-241-9
6″ x 9″ Trade Paperback, 288 pp
Novel

In this new edition of Jack Hodgins' Governor General–winning novel (for 1979), the reader is taken into the everyday eccentricities of life in Port Annie on the west coast of Vancouver Island, a town that keeps slipping into the ocean and whose people have long been in a continuous slumber. Everything changes, however, when a beautiful sea nymph is washed ashore from a stranded freighter. People begin grasping at new possibilities. There's the giant cactus the mayor installs to attract the tourist trade, the personal life of Jenny Chambers, ex-stripper, is exposed, and the Kick-and-Kill beer parlour becomes home to wild events. But there is also Joseph Bourne himself, once a world-renowned poet and healer, who has become a bitter recluse. Bourne knows that the endless rain is going to bring a landslide down on the town, and he fears that the mysterious woman has come looking for him. In the end he dies and is resurrected – an experience that allows him to regain his healing powers so that he can work his magic on the townsfolk. With his energetic style and his comic characterization, Hodgins combines the ordinary with the wondrous.
Reviews & Awards:
"Crammed with colour and bursting with characters . . . A novel of hope and life." —Times Colonist

"Jack Hodgins' stories do one of the best things fiction can do — they reveal the extra dimension of the real place, they light up the crazy necessities of real life." —Alice Munro
Other Ronsdale books by Jack Hodgins: