Shadows of Disaster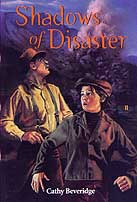 Shadows of Disaster
$11.95
Spring 2003
ISBN 978-1-55380-002-6 (1-55380-002-8)
5-1/4″ x 7-5/8″ Trade Paperback, 194 pages
Young Reader Novel – Ages 9 to 12
A separate Teacher's Guide is available from Ronsdale Press for $5.95.

"Sometimes it's good to take a risk." Twelve-year-old Jolene knows that her grandfather's words are true, but she's not a risk-taker like her twin brother. Frustrated, Jolene convinces herself that it would be easier to take risks if she were a boy. Her grandfather disagrees, but then her father thinks her grandfather might be as crazy as his old stories. For her part, Jolene thinks her father, who's trying to preserve history in a Museum of Disasters, is the crazy one.
Jolene learns the truth when they take a trip to the Crowsnest Pass to research the Frank Slide, and she discovers that her grandfather has found a way to step back into time. In 1903, disguised as a boy, Jolene must face the wrath of an impatient teacher, challenge her ability as a gymnast, and disentangle herself from an embarrassing love triangle. She must also face the fact that the generous people of the town of Frank are living in the path of disaster and she cannot save them.
She can, however, save herself and her grandfather and does so in a desperate race against time. But the lessons of the past are not lost in the present. Jolene discovers a way to revitalize her father's museum by preserving the story in history, and she prepares herself to take a few risks herself – as a girl. An historical novel for readers age nine and up, Shadows of Disaster brings to life Canada's deadliest rockslide through a portrait of a young girl learning to be her own self.
"Marvellous! A rollicking time-travel adventure jammed with interesting historical facts."
— Arthur Slade, author of Dust, 2001 Governor General's Award winner.
"The story of the Frank Slide comes to life in this absorbing and accurate novel for young readers."
— Monica Field, Manager, Frank Slide Interpretative Centre
Cathy Beveridge's Canadian Disaster Series:
__________________________________________________________________________________________________
Reviews & Awards
Shortlisted for the Golden Eagle, Diamond Willow, Rocky Mountain, and Red Ceder Book Awards
Longlisted for the CLA Children's Book of the Year Award
"an absorbing tale of a young girl"
— Canadian Literature
"An excellent novel to read and share"
— CM Magazine
"This time travel brings to life the deadliest rock slide in Canadian history."
— Resource Links
"a compelling tale that's not only historically accurate but relevant to young adults."
— Quill & Quire
"The author does a super job of helping modern readers connect with details of daily life in the past."
— St. Catherines Standard
"It is obvious why young adults love her stories."
— The Daily Bulletin