Skin Like Mine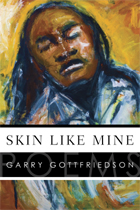 Skin Like Mine
$15.95
Spring 2010
ISBN 978-1-55380-101-6
6″ x 9″ Trade Paperback, 122 pages
First Nations, Poetry
SHORTLISTED FOR THE CANADIAN AUTHORS ASSOCIATION AWARD FOR POETRY 2011
In Skin Like Mine Garry Gottfriedson offers a suite of poems that peel away the skin of contemporary first nations society to reveal an inside view of individual experience.
Gottfriedson speaks of "minds full of anticipation" yet with "tongues pointing arrowheads." Today's youth, he says, are "afraid of themselves." He finds that both individuals and bands end in "tangles," that they write "nonsense words in the sand" or exploit images painted on rocks, those "the postmodern Indian calls / visual poetic expression."
As the collection continues, however, Gottfriedson's love for the land emerges. He draws attention to the rape of the natural environment, the skin of Mother Earth, through clear-cut logging. He speaks of the damage caused by the pine beetle, of "forests being / eaten from the inside out." And here it is that Gottfriedson introduces the mysterious Horsechild, who is to prepare the drying racks for the returning salmon "so that beneath your skin / the mountains will be forever abundant": a prayer for us to protect the migrating salmon on their multi-year cycles, to protect the bears and eagles that feast upon them, so as to assure that the transformations will continue, that there will be abundance for both humans and the earth itself.
Click here to read a sample from Skin Like Mine
My Grandmothers
my grandmothers purled farewell
paused knowingly at the edge
whispered with luminous satisfaction
to souls waiting for greeting
they had done their work
in the unfettered fields and open spaces
the land where my ancestors' bones are ground to dust
confidence was reborn
from fleeting echoes spiraling amid the sagebrush and cacti
they had done their work
from the common past retold
through dream-time and oral pass-downs,
the rebirth of recognition
solidified their commitment and mine
they had done their work
for the betterment of future life-givers
my grandmothers cleansed the re-constructed landscape
kept the remains pure
despite the underhanded politicians extorting land
they had done their work
the landscape nearly disappeared
under the weight of barbwire fences
but the dust of my grandmothers still blows between the barbs
and I hear them whispering the names of my grandchildren
they had done their work
Skin like Mine
you wear your skin like mine
kerosene sweat dripping
flooding angry refutation
brown and proud
complexion forever drenched in self-pity
I see you as you are
we are the same person
minds full of anticipation
tongues pointing arrowheads
feet ready to kick mule-quick
hearts engulfed
this is the result of something gone stupid
we are stupid
we crushed up potential
filled our days with junk
punched arms and legs
clung to wrinkled stories long gone
hid deep within waste
blamed others for our weaknesses
denied others our goodness
fell in love with stupidity
afraid to live
afraid to die
afraid of ourselves
Puerto Vallarta
cobble stone streets stitch zigzags
along the hillsides, offshore the ocean
etching remnants of long-ago inlaid blood
left by Spaniards and aboriginal warriors
antiquated whispers rattle in the background
hidden behind the roar of the Pacific
the homeboys don't remember
when this fat empire was opened up
to the new world
for missionaries and tourists alike
but the beaches crawl naked bodies
as Central American refugees barter on
bent knees to forget fading faith
they stare stone-faced into the blue eyes
of corpulent tourists shading under palm huts
drinking cerveza
ghosts from a different time hide on Gringo Street
past dignity, acceptance and demoralization
I cannot close my eyes long enough to
blink away disenchantment
but I feel the valves in my heart choking
a coward in your land
I hide, clinging to a beer
acting like a white man
Moon Fractions
the night sky crawls yellow in
Taiwan as it does in Italy
and for that matter, here too, on
the starlit crazy rez shaping
fractions to keep white
folk dizzy with mis-
calculations
I love that, but love is useless in
poetry, so I dream words in
somnolent shades and start again
I re-create rocks dripping
salt water from sea-smashed waves,
writing nonsense words in the sand
dunes left when the tide runs back
to the other side of the world
but on the desert rez, there are no sea-sand
words to imagine, only those written in the skin
of birch trees, those painted in rocks
that the post-modern Indian calls
visual poetic expression
the ancestors have always left
a stone impression on the visitors
just as we do today
how little things change
our blood drips on
the sidewalks late at night
sometimes even in the bright daylight,
our visitors stare down
at us leaving footprints forever
etched within each wrinkle, every line of
the living stories we tell through our eyes
patterns of sand pounded across oceans in
Taiwan or Italy or on the shores of
this country where rocks and gravel grind
to dust glimmering on moonlit nights
waiting for someone to
dream them to life
Click here to close the book excerpt.
Also by Garry Gottfriedson:
Reviews
"A beautiful and complex collection of poems."
— CM Magazine
"This is a poet who cannot be pinned down. . . . Accessible plain talk, not literary poetry, with terrific speech rhythms. . . .These poems describe a wide emotional arc. . . . Skin Like Mine is an eye opener."
— BC BookWorld
"Politically potent, culturally contemporary, and sensually seductive, as images of crows, sky, dance, and horses work to touch the surface of and get beneath our various scarred and weathered skins."
— Prairie books NOW
"A mesmerizing cacophony of identity. . . . Skin Like Mine is so finely crafted that it will fascinate new and experienced readers of First Nations literature."
— Canadian Literature
"Poetry by Garry Gottfriedson is like no other. His span includes for example: religion, treaties, horses, race, suicide, other creatures, feelings, and reflections from his youth. Gottfriedson takes the day-to-day to historical scenes and bounces into the future. If you like poetry you will enjoy the breadth and depth of… Skin Like Mine."
— Anishinabek News
"Gottfriedson is a modern narrative poet whose poems are full of his heritage, Mother Earth is a Deity, and there is no space between the natural world and man. But this is no Dances With Wolves fairy tale, instead these poems deal intelligently with the task of being aboriginal in a difficult world."
— Michael Dennis