Tangled in Time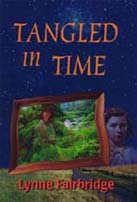 Tangled in Time
$12.95
ISBN 978-0-921870-69-2
ebook ISBN 978-1-55380-382-9
PDF ISBN 978-1-55380-383-6
5-1/4″ x 7-5/8″ Trade Paperback, 158 pages
Young Adult Novel
A separate Teacher's Guide is available for $5.95.


Lynne Fairbridge's Tangled in Time presents a captivating story of a young girl's travel in time back to the harsh life of the Depression years. The novel opens in Edmonton with Janna's world being turned upside down when her mother tells her that she plans to remarry. Withdrawing from her family and feeling as though her father's memory has been betrayed, Janna finds herself attracted to a mysterious painting in her grandmother's house.
When a beckoning woman in the painting lures Janna into the past, she is convinced that she must be dreaming. However, once she is transported into the past a second time, her predicament becomes frighteningly real when she becomes trapped as a member of a Dutch immigrant family in Neerlandia (north of Edmonton), who had followed the promise of a new land only to find themselves battling poverty. Janna must adjust to her new situation — being dirt poor and working as a maid, yet with knowledge of what is to come.
Complicating the matter, she becomes increasingly attached to her new-found family and finds herself falling in love with a boy whose family owns her grandmother's painting. Janna knows that the only link between the past and the present is the mysterious painting, but where is it? Tangled in Time offers a superb account of a young girl facing the challenges of growing up in two very different worlds and coming to understand the many bitter-sweet faces of love.
"An entrancing story, with a wonderfully satisfying conclusion."
— Monica Hughes, winner of two Governor General Awards
"A magical story told with great humanity."
— Brenda Bellingham, author of Stormchild