Ten Mondays for Lots of Boxes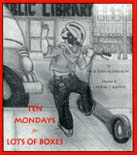 Ten Mondays for Lots of Boxes
$6.95
Autumn 1995
ISBN 978-0-921870-32-6 (0-921870-32-9)
8″ x 9″ Trade Paperback, 32 pages
Children's Literature


Summertime, and moving time. A bittersweet time for "Lots of Boxes." But as he pragmatically tells his mother, all their belongings will fit inside his box collection, and the moving will be easy. The hard part will be to see if the new house with three apple trees will be a home like the old house with twin plum trees.
Over 10 Mondays, "Lots of Boxes" explores his neighbourhood and makes a new friend. Together they plant a garden and join forces with the Wandering Blue-Eyed Glumfy. When his playmate "Easy as Pie" comes over for a visit, and the world contains old friends along with new, "Lots of Boxes" knows change can enrich life with dreams, fun and challenge.
This is Sue Ann Alderson's fourteenth children's book and will surely be as popular as her "Bonnie" books. The story is complemented by the many warm and detailed pencil drawings of Caddie T'Kenye.