Terra Incognita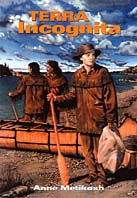 Terra Incognita
$11.95
Autumn 2000
ISBN 978-0-921870-76-0
ebook ISBN 978-1-55380-402-4
PDF ISBN 978-1-55380-403-1
5-1/4″ x 7-5/8″ Trade Paperback, 144 pages
Young Adult Novel, History
A separate Teacher's Guide is available for $5.95.


This young adult historical novel, set in the early seventeenth century, tells the story of Madeleine Hebert and her brother Philippe who travel to New France to join their father after their mother dies in France. On arriving in Quebec city, they learn that their father, with the Regiment de Carignan, is at Michilimackinac, and possibly ill.
When Philippe decides to go in search of their father by persuading Gabriel, a coureur de bois, to take him to Michilimackinac, Madeleine refuses to stay behind. With the help of her brother, she cuts off her long hair and disguises herself as a boy. And then begins a series of adventures as the threesome make the long canoe trip from Montreal up the Ottawa, over the height of land and down to Lake Huron and Michilimackinac.
For a young girl it is an arduous trek, but Madeleine shows her high spirit and independence over the long days of paddling and the gruelling portages. At a welcoming Huron village, Madeleine discovers something of the Native way of life and that the land is far from being a terra incognita to the original inhabitants. In writing this historical novel, Metikosh has done a superb job of recreating history as it might have been experienced by a young woman.
"This exciting story of the realistic adventures of a once-proper young lady of France, now disguised as an apprentice coureur de bois, leaves the reader wanting to know what happens next to the feisty heroine."
— Constance Horne