Casanova Sexicon, The: A Manual for Liberated Men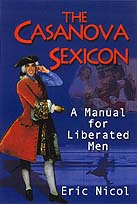 The Casanova Sexicon
A Manual for Liberated Men
$18.95
Autumn 2001
ISBN 978-0-921870-88-3 (0-921870-88-4)
6″ x 9″ Trade Paperback, 254 pages
Non-Fiction, Humour


What does Jacques Casanova, demonstrably the world's greatest lover, have to say to heterosexual men of the 21st century? Do his celebrated memoirs provide a message for the muddled swains of our time, whose sex drive is often stuck in neutral because liberated women can be a scary climb? The answer, one that Casanova was accustomed to hearing: si . . . oui . . . yes! The Casanova Sexicon organizes his life's enlightening episodes and insights in alphabetically arranged sections, with blithe if moot commentary, for easy study and memorization.
Casanova's success in seducing the ladies of 18th-century Europe is clearly pertinent to today's career woman. The king's mistress (Pompadour) presented the same challenge as our female CEO of the gas company. The way that Casanova made pretty nuns forget their bridal vows to God will work equally well with worshippers of Greer and Friedan. His secret? – love.
Without that constant, The History of My Life would be merely naughty bits. But Casanova genuinely loved his women. Loved to please them, talk to them, meet the love children they bore him. So, for the would-be Casanova, this text's pages serve to cap such love with sexual fulfilment, the consummation devoutly to be wished. Remedial reading, for over-eighteens.
"On the delicate subject of sex, the man who has won more Leacock awards for humour than any other shows that he hasn't lost his touch."
— Allan Fotheringham
"When you care enough to demand the best, it's got to be Gretzky for hockey, Jordan for hoops, Casanova for seduction – and Nicol to explain, as only he can, that sex is a participation sport. But if there was a league, Casanova would be the commissioner. If I'd had this book in high school, my zits would have cleared a lot earlier."
— Jim Taylor, Sports Columnist & Author