Exile & The Sacred Travellers, The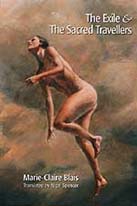 The Exile & The Sacred Travellers
$15.95
Autumn 2000
ISBN 978-0-921870-79-1 (0-921870-79-5)
6″ x 9″ Trade Paperback, 180 pages
Fiction, Translation


In this collection of nine short stories and the powerful novella "The Sacred Travellers," Marie-Claire Blais offers an exploration of the major themes of her work: the pain of desire, the fragility and vulnerability of the human spirit, the quest for purity and generosity, and the pitiless search for truth. The characters in this new collection are all exiles, all fighting to inhabit new beings.
Yet the exile explored by Marie-Claire Blais is far more than a matter of circumstance; it is the metaphysical exile of humans wandering the face of the earth, looking for a place, a self, to call their own. Many of Blais' characters have passed through the 1960s, and are now refracting life in ways unexpected and unrecognizable, as increasing awareness compensates for diminishing powers.
Neither nostalgic nor bitter, these travellers see their victories and defeats as something far more personal and intimate than they would have thought possible in the '60s of their youth, a youth that stands as a parallel to the paradise, real or imagined, that has been lost. Marie-Claire Blais' hauntingly beautiful French has been translated by Nigel Spencer into English that is at once straightforward, supple and lucid.
"Marie-Claire Blais must be one of the most profoundly intelligent and gifted novelists in North America."
— John Hollander
"Blais' leitmotif is the spiritual thirst born of hardship and the hunger for redemption in a brutal world."
— The Gazette
Also by Marie-Claire Blais