First Day of Winter, The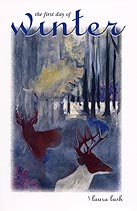 The First Day of Winter
$13.95
Autumn 2002
ISBN 978-0-921870-99-9 (0-921870-99-X)
6″ x 9″ Trade Paperback, 104 pages
Poetry, Women's Studies


Laura Lush's new collection of poems is nature poetry at its strongest and most insightful, the images connecting to give voice to our many uncertainties as we creep further into an already darkening twenty-first century. With an unwavering eye, Lush focuses on the spiritual tenacity needed to make our way through difficult times.
Lush's sharply drawn images make us aware that winter braces the soul, enlivening the instinct for life – as we turn to face the cold wintry blast. "Winter," she says, "teaches us to love the long / liturgies of ice, the sudden stopping of water / before the black flock of birds / lifts blindly off the pond." For Lush, to understand nature is to know how to die and, therefore, to live. As she says:
Spring will eventually get here
as certain as the deer fight
their way out of winter
with each shining breath bud.
With arresting perceptions, Lush lays bare the complexities involved in love between the sexes and between family members, revealing the compromises involved in the strongest of loves, and never settling for anything less than total honesty. Yet it is honesty that never verges on the cynical but moves the reader into a world seen clearly and intelligibly so as to reveal the wisdom that one gains from pain.
"In The First Day of Winter, Lush writes about mothers and sisters, sexual love and loss with arresting perceptions and language both sensuous and witty."
— Richard Lemm