Generation of Caliban, The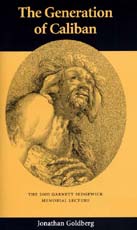 The Generation of Caliban
$8.95
Spring 2002
ISBN 978-0-921870-93-7 (0-921870-93-0)
5-3/4″ x 9″ Pamphlet, 36 pages
Literary Criticism


In his University of British Columbia Sedgewick lecture for 2001, Professor Jonathan Goldberg explores the ways in which contemporary writers and critics have identified with Shakespeare's figure of Caliban in his play The Tempest as a means of exploring the relationship of the colonized to the colonizer.
Examining the work of the great Barbadian novelist and critic George Lamming and others, Goldberg details the various ways in which contemporary writers have re-interpreted Caliban and the language imposed on him. In its simplest articulation, language is seen merely as a means of exploiting the colonial – Caliban being able to use language only for cursing – but in its more sophisticated usage, language can be used by the colonized as a means of understanding their condition and as an opening to futurity.
Nor is this "futurity" in terms of social relations only since, as Goldberg points out, Lamming imagines generation as outside the normal heterosexual roles. The readings of The Tempest offered by Lamming and others (including Sylvia Wynter and Michelle Cliff), Goldberg suggests, invite us to return to Shakespeare's play and to see in it new possibilities. Included also in the pamphlet are a number of black and white illustrations of Caliban, dating from a 1736 Hogarth to present-day stage representations, and a portrait of George Lamming.
Garnett Sedgewick Memorial Lectures: